Tour Description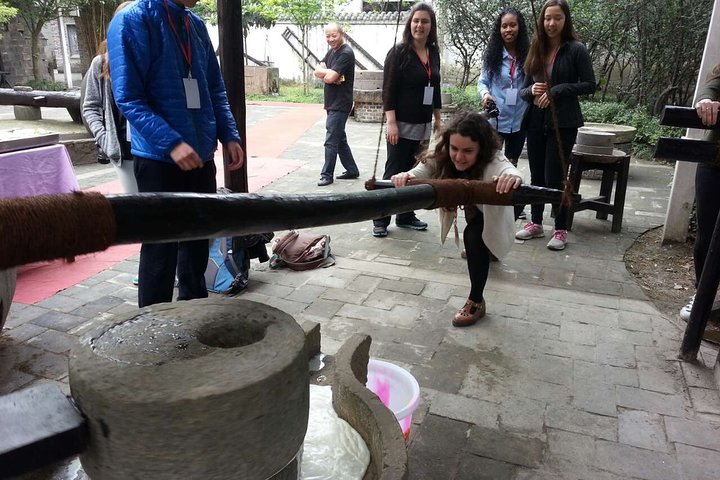 Overview:
Discover the culinary wonders of China's Sichuan province on this comprehensive food tour from Chengdu. Your gastronomic adventures start with a visit to the ancient town of Luodai, where tasty local treats await. Then, a trip to the Museum of Sichuan Cuisine and a Pixian bean paste factory will satisfy your equally hungry mind. With both lunch and dinner provided, this tour is a fabulous way to spend a day in Sichuan and will surely please the foodie in you.
Tour Details:
►
Stop At:Luodai Ancient Town, Ba Jiao Jing Street, Long Quan Yi Town, Chengdu Chin
I
n the morning,be taken care by your professional, efficient and friendly guide and driver, this all-day food adventure begins with hotel pickup in Chengdu and a drive to Luodai, an ancient town nearby. Small towns in the province of Sichuan are usually bursting with life, and Luodai is no different. Vendors selling fresh produce line the streets; elderly gentlemen play mah-jong inside and outside of shops; food stands fill the air with the wonderful scents of various local snacks. Spend two hours on a guided tour of this old yet vibrant town, which boasts of the largest Hakka community in southwest China. See several guildhalls with intricate Hakka architecture and stroll down the streets with the locals. Your guide will pick three or four mouthwatering local snacks for lunch. This may be anything from rice noodles to fire-cured goose to a sticky rice ball – all tasty Hakka delicacies.
►Stop At:Sichuan Cuisine Museum, No.8 Ronghua North Alley, Gucheng Town, Pi County
After visiting the ancient town,you will take a 90-minute drive to your next location.You can take a food-induced nap or listen to stories from your guide. You'll arrive at a Pixian chili bean paste factory, where you'll discover the secrets of making the famed doubanjiang, a spicy bean paste used in Sichuan cuisine.
Then learn more at the Museum of Sichuan Cuisine, displaying various culinary artifacts and books by authors known for their contributions to Sichuan cuisine. Hear many Sichuan food facts, from the historical developments of the cuisine to the trade and commerce related to this industry. Learn about technological advancements in pottery and cooking techniques and the culinary effects in art and literature, and see maps showing the subtle variations in flavor among the different areas of Sichuan.
After the museum, return to Chengdu and satisfy your growling stomach with a wonderful bowl of hot pot at a local Chinese restaurant. On this full day tour, you will not only gain knowledge about the history and culture of Sichuan cuisine, you will also partake in a savory experience of the food itself!
What's Included:
• Local Hakka snacks for lunch
• Hot pot dinner
• Hotel pickup and drop-off
• Local English-speaking guide
• Private comfortable air-conditioned vehicle
• Admission of all the places list in the itinerary
What's Excluded
• Gratuities
Policy:
• Book at least 24 hours in advance
• For a full refund, cancel at least 24 hours in advance of the start date of the experience